The Jacket from KNIGHT RIDER
Since the release of the Knight Rider Heroes Trailer, we have received an overwhelming demand to make the famous iconic "Knight Rider Jacket" available to the public. The producers of Knight Rider Heroes and senior executives at Knight Industries Media are making this happen as a one time, Limited Edition Run.
This offer is only being sent to fans that have signed up with us from the start, our subscribers. If you've subscribed to Knight Rider Heroes in the last year, you are receiving this offer exclusively.
There's more...
The jacket will come in a very high quality, Limited Edition Box, inspired with the design of the Foundation Semi from "Knight Rider," which we are sure you will want to keep forever.
and finally..
When Mr. Hasselhoff found out about our exclusive jacket offer, he loved the idea so much, he's agreed to personally sign and endorse each piece in our limited Edition Run. That's right, Mr. Hasselhoff will personally endorse each piece with his signature, making this a truly historic offer to all Knight Rider Fans around the world.
This is your chance to own a piece of Cinematic history.
When the decision was made to bring this jacket to life, we wanted to make sure it was done with the same love and passion that true fans have for the show. In our journey to bring you this historic, once is a life time piece, we couldn't have done it without the man himself, Mr. Hasselhoff.
As he shares in our passion for the project, he decided to loan us his very own personal Knight Rider jacket to which we could create the same design, look and feel. It's as close as you will ever get to the original used in the show. We of course wanted to add a little something more to bring out the look and feel of the show. You will see we've adorned the interior of the Jacket with Red Stitching, further bringing out the spirt of Knight Rider. Of course we've also added the limited edition Tag which has been signed by Mr. Hasselhoff. Keep in mind, the signature on the tag is a printed signature, it is in addition to Mr Hasselhoff's personal signature which will come separately, he will be signing each piece, personally. We wanted to make sure you could wear the jacket and keep the original signature intact.
Made from 100% Lambskin Leather
100% Polyester Lining
Brass Buttons
Red Stitching
We couldn't be more pleased to offer such an iconic piece of Cinematic history to the people who deserve it most, Knight Rider Fans.
Knight Rider would not have been complete without the "Foundation Semi", or as Devon called it "FLAG's Mobile Command Centre." A pivotal icon of the show where Michael Knight and Kitt enter the semi by driving into it throughout the series.
We thought what better way to honour the once in a lifetime opportunity then to have the box design inspired by the FLAG's Semi colours and design. Every detail was carefully made to create the look, feel and spirt of the Foundation Semi, yours to keep, forever.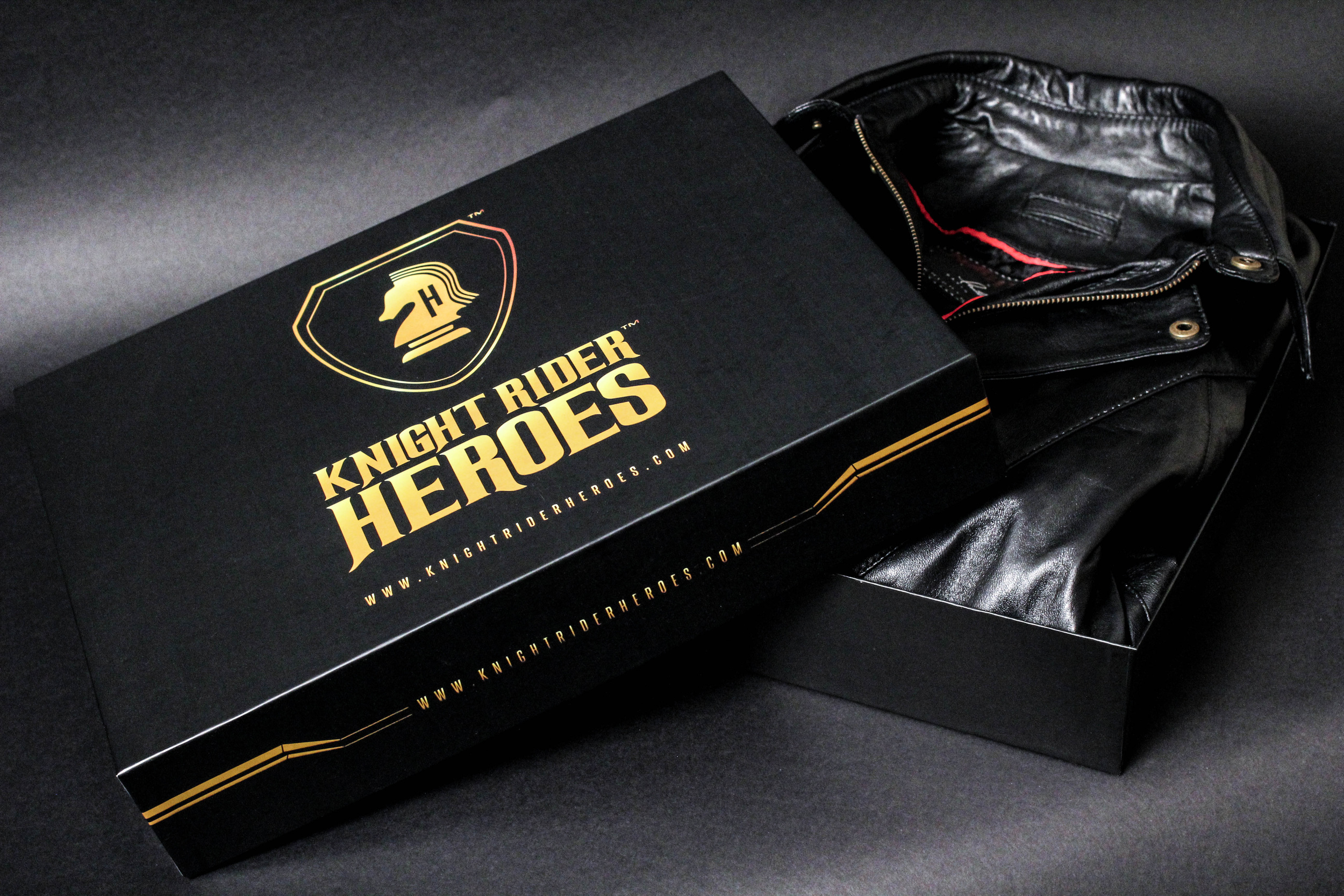 certificate of authenticity
Knight Industries Media stands behind our commitment to honour the fans of Knight Rider in it's truest form.
Each one of our Limited Edition pieces will come with a Certificate of Authenticity, ensuring the true original authenticity of Mr. Hasselhoff's signature.
One Man Can Make A Difference.